If you didn't enter our website via the index page. Please click here

VXAtape Media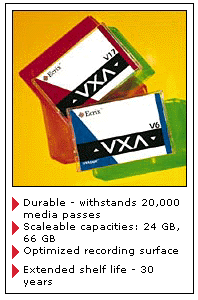 VXAtape™ utilizes Advanced Metal Evaporated (AME) technology, which was developed specifically to deliver the durability, archival and capacity properties required for high performance tape drives.
The media is made by passing the substrate through a vacuum chamber where 100% cobalt material is deposited directly onto it. This has two significant advantages over conventional Metal Particle media: It offers an optimized recording surface, and there is no use of chemical binders which tend to break down, introducing debris and contaminants into the head/tape interface.
An extremely hard, protective Diamond Like Coating (DLC) is applied over the magnetic layer to make the media even more durable. It resists oxidation and moisture, and does not leave residue on heads or tape path components.
Increased durability and reduced tape wear mean your data will be there, readable from any VXA-1 drive. And as your storage capacity needs grow, VXA has a solution - VXAtape is available in 24Gb (V6), 40Gb (V10) and 66Gb (V17)capacities. With an archival life of more than 30 years, the ability to withstand up to 20,000 passes and a limited lifetime warranty, VXAtape is truly an outstanding choice in data storage media.
[- click here for VXAtape media specifications -]