If you didn't enter our website via the index page. Please click here

| | |
| --- | --- |
| | |
VXA IS FOR AUTOMATION
Why choose VXA Autopak?


Streamlines backup of multiple distributed servers.


Eliminates human error and speeds up repetitive procedures.


Reduces risk of data loss due to computer virus contamination and other security breaches.


Most cost-effective solution for high volume, unattended backup.
Product Highlights.


Automate your backup using VXA technology.


15 tape cartridge capacity totaling 990Gb.


Simple, reliable design through packets.


Greatest value in automation.
Increase Efficiency (And Make Your Life Easier) Automatically.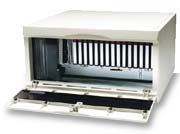 Without a doubt, backing up your data isn't the highlight of your day. So why not eliminate that necessary yet annoying task by automating your system backup with the VXA AutoPak? With the VXA AutoPak, you can pack in an incredible amount of data - up to 990Gb (2:1 compression) - in a small enclosure that sits comfortably on a desk or fits conveniently in a rack. And not only is the VXA AutoPak easy to use, it's affordable and infinitely reliable.
The Design - High Reliability Meets Low Cost.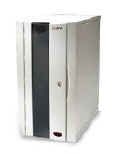 VXA's Award Winning Packet Technology.
The VXA-1 drives installed in the AutoPak are the first and only tape drives to use packets - the basic technology already proven in the networking, Internet, and CD rewriteable markets. Each data packet is uniquely addressed and can be read in any sequence. Initiating multiple scans, the VXA-1 drive reads each packet independent of track shape or geometry. This approach virtually guarantees 100% data restore and eliminates the need for expensive head and track alignment mechanisms required on other tape drives.


No More Backhitching
This approach virtually guarantees 100% data restore and eliminates the need for expensive head and track alignment mechanisms required on other tape drives. VXA also successfully solves a problem known as "backhitching" or "shoeshining," where the tape frequently stops and repositions itself when the data flow to or from the drive is interrupted. Not only does backhitching accelerate media and head wear, it also negatively impacts the life of the drive mechanism. VXA is the only tape drive to automatically adjust its tape motion to match the host transfer rate - significantly enhancing reliability and optimizing both backup and restore times. For more info visit, Why purchase a VXA drive?

Intelligent Robotics.
The VXA AutoPak robotics were designed with an intelligent picker that increases reliability by using only two motors. The simple design of the robot and uni-body chassis results in greater reliability and lower manufacturing costs.

Simple Media Management.
Media management has been simplified too. The removable cartridge holder includes a dust cover, which attaches to the back of the unit before installation. This ensures that users wont misplace the cover when removing media from the AutoPak or when moving it to an offsite location.

Added Functionality
The Virtual Control Panel.
Accessible via an Internet browser, the Virtual Control Panel allows users to administer the VXA AutoPak from anywhere on the network. This interface simplifies robotic and drive diagnostics, firmware upgrades, tape repositioning, and access to online documentation provided by the manufacturer.

Conversion to a Small Library
To provide redundancy and increase data throughput, the VXA AutoPak can be upgraded to a small library by simply installing a second VXA-1 tape drive. A barcode reader that works in conjunction with the backup software can be added to further increase the efficiency of the media and data file management. Both of these options can be ordered separately.

[- click here for VXA AutoPak specifications -]