If you didn't enter our website via the index page. Please click here

| | | |
| --- | --- | --- |
| VXA for Mac | | |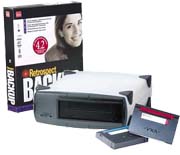 VXA IS FOR APPLE
The VXA-1 tape drive is the very first high capacity tape solution designed specifically for your beyond-lightning quick Power Mac G3 or G4. This state-of-the-art drive provides extraordinary performance and restore capabilities unprecedented in the data storage industry.

Plus, with its sleek, translucent design, the VXA-1 will look right at home by your Power Mac.

Files Hogging Your Hard Drive? VXA Is For You.
If you dabble into the realm of gigabytes on a somewhat regular basis, then VXA is for you. While your typical CD-burner burns out at about 650 MB, the VXA-1 offers you a generous 66 GB capacity – with a transfer rate of 6 MB/sec. Which makes it ideal for applications like high-end graphic design. Gaming. Digital video. Web authoring. Computer-aided design, and publishing.
VXA Mac Ready Bundle Kit with Retrospect.
The VXA-1e External MAC Ready Solution is now available, complete with Dantz Retrospect software.
The (115.10108) kit includes a SCSI-2 SE narrow translucent external drive, V17 data cartridge, cleaning cartridge, active terminator, NT driver, online documentation and power cable with Dantz software. The software comes with a single client licence.

Dantz Retrospect Desktop Software Backup (Win & Mac)


Dantz Retrospect Backup is a powerful individual backup software package for any storage device.
It supports most storage devices including tape, CD-R/RW, DVD, and removable media. It is a reliable, automatic backup package for Windows 95/98/2000/NT Workstation or Macintosh systems.
Dantz Retrospect setup is streamlined, and with EasyScript it allows users to automate every aspect of your backup, including which files to back up, where to put them and when. Retrospect adds a unique feature of making an automatic snapshot during the last backup. This snapshot guides each file into the right place on your restored hard disk. Applications are reinstalled, extensions replaced, files reappear. In minutes, your back where you want to be. Retrospect can backup your PC clients on the Mac Network.
Using The Technology That Makes The Web Work.
Packets – that's the technology already proven wildly successful on the World Wide Web, in networking, and for the CD-rewriteable markets. And that's the enabling technology behind VXA. Called Discrete Packet Format™ (DPF), it allows data to be written and read in packet form – dramatically improving the ability to restore your precious data.

VXA also incorporates two other noteworthy (and proprietary) features. Variable Speed Operation™ (VSO) completely annihilates a wear-and-tear tape problem called "backhitching" which can lead to critical data loss. OverScan Operation™ (OSO) is a unique technique where the packets are read by multiple scans – virtually assuring 100% restore of all your data. For more details, visit Why Purchase a VXA drive?
Specifications assume a 2:1 compression ratio. Compression, capacity and throughput will be dependent upon the type of data and system configuration. All specifications and pricing information are subject to change without notice.
[- click here for VXA-1 tape drive specifications -]