Kingston and Rambus - Partnering for the future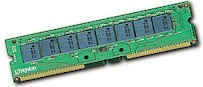 Kingston Technology Company has collaborated with Intel Corporation and Rambus Inc. to facilitate the market ramp of the new Rambus memory technology and to provide premium quality modules at affordable prices to customers worldwide.

Kingston, Rambus and Intel engineers continue to work closely together to reduce the high-volume manufacturing and testing costs for Rambus memory modules, which will ensure a faster ramp up of this next generation memory technology.



"Kingston's strong commitment to the new Rambus memory architecture and its early involvement in the technology development process will help ensure that there will be ample capacity to manufacture, test, and deliver Rambus modules to customers worldwide," said Peter MacWilliams, Director of Platform Architecture and Fellow at Intel.
With the right industry partnerships, technology and dedicated people already in place, Kingston is the one to trust in delivering premium-quality Rambus memory modules at affordable prices.
Available from Craystone Investments Ltd. UK Tel: 01204 524262. Fax: 01204 535995. Email: info@craystone.com