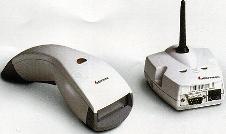 Intermec ScanPlus 1802 RF Hand Held Scanner Press Release.


NO BAR CODE IS OUT OF YOUR REACH WITH INTERMEC'S NEWEST CORDLESS SCANNER
The ScanPlus 1802 is light, yet durable for demanding retail and healthcare environments

READING, United Kingdom, 9th November 1999 - Intermec Technologies Corp. announce the availability of the ScanPlus 1802 wireless automated data collection scanner and the MicroBar 9735 Base Station.

The ScanPlus 1802, a compact and high-performing hand-held bar code scanner designed for retail, light industrial, healthcare and office environments, extends the reach of scanning since, with no cord, no bar code is out of reach.

With a scanning operating range of up to 15m and battery life of 7,000 scans (at least eight hours of constant use), the ScanPlus 1802 offers exceptional performance where mobility and long battery life are required. The integrated NiMH battery pack is quickly recharged by the advanced two-bay, high-speed charger.

The ScanPlus 1802's advanced technology allows it to read even poorly printed or damaged bar codes and to obtain reliable information, even under the most challenging circumstances. In addition, it retains the ScanPlus 1800 series' light weight and ergonomic shape.

The ScanPlus 1802 is highly flexible. With a choice between CCD and laser scanning devices and the ability to connect with more than 1,500 host terminal interfaces, ScanPlus 1802 can match the requirements of the most demanding applications. Because functional alterations are easy, companies will find the 1802 both fits well into current environments and adapts as needs change.

"The ScanPlus 1802 allows us to apply bar code scanners in situations where it is difficult to get to the bar code or when a multitude of cables could represent a safety concern" said Cedric Mollon, Intermec product marketing manager. "What is exciting for us and our partners is that this is a purpose designed cordless bar code scanner with exceptional ergonomics and performance. The weight and balance of the scanner has not been compromised by the battery or any other component.

"The MicroBar 9735 base station supports several (up to 5) wireless scanners and input devices, reducing the cost of a company's automated data collection system. As with the MicroBar 9730, the 9735 offers advanced data formatting capabilities, allowing customers to easily delete, mask, move or add characters to messages transmitted to the terminal.

The ScanPlus 1802 uses narrow band technology at 433MHz and 908MHz for data transmission, the most efficient and reliable bandwidths available. The two-way communication system between the scanner and its base station MicroBar 9735 allows real-time transmission control and acknowledgement to ensure complete reliability.

The 1802 features EasySetIT, Intermec's Windows-based scanner configuration software that allows users to set up Intermec products simply by scanning a series of bar codes. In off-line mode, EasySet allows users to easily construct and print a page of set-up bar codes that users scan to configure one or more scanners. To associate a scanner to its base station, users simply read the Associating Bar Code on the MicroBar 9735. To work in another area, an operator needs only to scan the bar code on the corresponding base. With EasySet, the scanner is up is up and running in a matter of minutes, and it can be reconfigured in real time, giving the user total control.
prices and specifications may change without notice. E. &. O. E.