If you didn't enter our website via the index page. Please click here

VIKING RAMBUS TECHNOLOGY
The Direct Rambus RIMM (Rambus In-line Memory Module) is a next-generation high-performance plug-in memory module for PC main memory. Developed in conjunction with Intel Corporation, Direct Rambus technology has the performance/cost ratio demanded by the high clock-rate microprocessors used in mainstream PCs due to ship in 1999.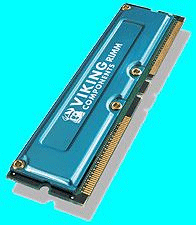 The RIMM conforms to the standard DIMM form factor, but is not pin-compatible. It's architecture is based on the electrical requirements of the Direct Rambus Channel, a high-speed bus operating at a clock rate of 400MHz which enables a data rate of 800MHz (data is clocked on both clock edges). The bus uses transmission line characteristics to maintain high signal integrity.
The Viking Components Direct Rambus RIMM can hold up to 8 advanced Direct Rambus DRAM chips on each side of the module, providing a peak bandwidth of 1.6 GB per second. Heat management is controlled using a heat spreader and thermally conducted elastomer. The Viking Components Direct Rambus module design strictly follows Rambus guidelines and specifications.

Viking Rambus Available Capacities:
64MB RIMM
128MB RIMM
Rambus Continuity Boards
Rambus Specifications:
RIMM Density: 64MB and 128MB
Voltage: Single 2.8 Volt Operation
RDRAM: 400MHz Clock Rate
800MHz Data Rate
Serial Presence Detect with a Serial EEPROM
Meets Rambus RIMM Design Specifications

Viking manufacturers over 2000 memory modules to upgrade almost any type of system. Our modules come with a lifetime warranty and are guaranteed 100% compatible. To find the exact upgrade paths and modules for your system, use the MEMORY QUOTATION REQUEST FORM
Follow the links below to read more about Viking Components Memory.