---
Capacity: 40Gb/80Gb

Transfer: 3Mb/6Mb/sec

Reads DLT4000 cartridges



Benchmark DLT1 40/80Gb Tape Drive

3 Year Advance Warranty

Ultra Wide SCSI

Internal/External
---
Benchmark Tape Systems - DLT1 40/80Gb Tape Drive
The Quantum sanctioned Benchmark Tape Systems provides a reliable tape solution that safely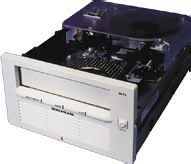 manages and preserves valuable corporate data. The first of Benchmark's drive family, the DLT1, provides a 40GB native capacity (80GB compressed) and a 3MB/second native transfer rate (6MB/second compressed), providing enterprise reliability and performance at low-end server pricing. The Benchmark DLT1 drive is packaged in a standard 5 ¼" form factor and is available as an internally configured unit (bare drive or kit) or as a self-standing enclosed unit. To increase your reliability and compatibility even more, Benchmark's DLT1 uses standard DLTtapeIV media, and the DLT1 has the added advantage of being compatible with DLT4000 tape drive. It's ability to 'backwards' read data from cartridges written by a DLT4000 drive, gives users access to their old DLT backups.
The DLT1 offers around twice the capacity and performance of a Quantum DLT 4000 tape drive at around the same purchase price. The DLT1 format is well supported by leading software vendors such as Computer Associates and Veritas.
DLT1 Specifications at a glance
Storage Capacity: 40GB native, 80GB compressed*
Data Transfer Rate: 3MB/sec native, 6MB/sec compressed*
System Interface: WIDE ULTRA SCSI, Low Voltage Differential (LVD)
Power Consumption: 15 Watts while operating (typical)
Product Warranty: 3 year Advance Exchange Warranty (Extendable)
* Actual capacity and transfer rate is highly dependent on data type
---
Intro DLT1 DLT7 Media Warranty Pricing
If you've reached this page without going through the index page, please click on www.craystone.com to get our full contact info and details.