Flash Memory


Today the uses for Flash Memory are rapidly increasing. Whether it's digital cameras, palmtops, Portable Digital Assistants (PDAs), digital music players, or cellular phones; they all need a reliable and easy way to store and transport vital information.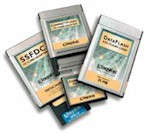 That's why Flash Memory has quickly become one of today's hottest portable storage technologies. It's more flexible than a floppy and can store up to 160MB of data. It's more rugged and much faster than a hard drive, and, unlike RAM, Flash Memory can retain data even when the power is turned off.

Flash Memory is ideal for dozens of portable applications. By inserting a high capacity Flash Memory card directly into a digital camera, you can store 100s of high-resolution images. When ready to output, simply pull the card out and transfer it to your desktop, portable or handheld computer for processing. Flash Memory cards fit standard Type II slots (with or without an adapter, depending on the type of flash card). Now you're ready to load all the captured images in seconds for viewing, manipulation, e-mailing or printing. No need to ever buy a roll of film again!
If it's Kingston Flash Memory, It's Compatible!
You'll find a Kingston Flash Memory card for almost every digital camera, notebook PC, PDA or other multimedia device that uses Flash Memory. Manufactured to exact industry standards, Kingston's Flash Memory cards are fully compatible with digital products that use Flash Memory technology.

Key Advantages of Kingston Flash Memory:
High Speed - Kingston Flash Memory cards are optimised to provide fast digital image and data-write performance.

Low Voltage - Flash storage cards are designed with solid state components which save power, consume less energy, and extend battery life.

Durability- Flash storage is able to tolerate severe shock and vibration without losing data. Rated up to 1,000Gs, Kingston's flash storage can withstand the equivalent of a 10-foot drop onto cement.

Non-Volatile Storage - While flash storage uses memory like DRAM and SRAM, it is non-volatile and retains data even when the power is turned off (similar to a hard drive).

Popular Uses
Multiple Applications - Use Kingston flash storage products with portable computer systems as well as any other electronic digital devices such as cameras, PDAs, palmtop and laptop PCs, cellular telephones, etc.

Portability - Flash storage products can endure up to 1,000Gs of external shock to ensure safe data transportation.

Hot Swapping - Kingston's PC Card flash cards and adapters adhere to the PCMCIA interface specifications which allow users to hot swap other PC Card devices without rebooting or powering down the system.

Security - Remove the flash cards from a system to prevent unauthorised data access.

Exceptional Quality - With a world-wide reputation for performance and value, Kingston combines efficient manufacturing with industry-leading components. The result is easy-to-use, reliable memory products at some of the best prices on the planet.
Available from Craystone Investments Ltd. UK Tel: 01204 524262. Fax: 01204 535995. Email: info@craystone.com