Intermec MaxiScan 2200 Self Standing Barcode Scanner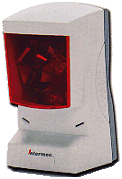 The Intermec MaxiScan 2200 Barcode Reader is a hands-free omni-directional scanner for retail Point of Sale (POS) and other similar applications. With a unique self-standing compact design the MaxiScan 2200 fits every point of sale or other application, maximising productivity using the minimum of counter space. The MaxiScan 2200 is extremely flexible, it is also the smallest scanner in it's class and does not need a fixed position stand.
Hands-free scanning combined with aggressive reading of all codes maximises the productivity of POS counters. The MaxiScan 2200's optics provide a scan pattern that is dense and optimised to read codes on fast passing items. The pattern has been carefully designed to eliminate holes throughout the reading area. A patented light collecting device contributes to the scanner's aggressive reading, even with low contrast, poorly printed or damaged barcodes. The resulting problem free scanning works so well that staff are free to concentrate on selling and providing improved customer service.
Operation is intuitive, simply pass an item in front of the reading window to read. The scanner emits a good read signal to confirm transmission. Although the MaxiScan 2200 is hands free, it can be easily be picked up to read barcodes on larger items. The self standing design provides a quick transition from hands free to hand held and allows the scanner to be placed in the optimum position for the preference of different operators.
The MaxiScan 2200 is quick and easy to install, plug in and start scanning. A long life laser diode (solid state VLD) and an easily replaceable optics window (a vulnerable POS scanner part) minimise down-time and cost of ownership.
CLICK HERE FOR SET UP DIAGRAM (WHICH MAXISCAN 2200 KIT DO YOU NEED?)
Intermec MaxiScan 2200 Omni - Laser
PC Keyboard Wedge Kit
Kit includes:
MaxiScan 2200 Scanner
Y cable PC (mini DIN)


£ 545.08





Single RS232 Kit
Kit includes:
MaxiScan 2200
RS232 cable
Power supply

£497.75





Terminal Keyboard Wedge Kit
Kit includes:
MaxiScan 2200
Various cables available
Power supply

£ POA
Dependant on
which terminal
you are
connecting to

Dual RS232 Kit
Kit includes:
MaxiScan 2200
Dual RS232 cable
Power supply

£534.70






The MaxiScan 2200 is a compact, self standing, omni-directional barcode scanner. It is ideal for point of sale and other applications where operators need their hands free.
Typical applications areas. Point of sale, Returns, Packing, Checking, pharmacy.
Features Advanced Technology
Operational Benefits

1600 scans per second
Dense 20 line projection pattern
Adjustable reading distance cuts accidental reads
Patented light collecting device
Code reconstruction repairs code damage
Aggressive reading of all common 1D barcodes.
2 step sleep mode with fast auto wake up

PICTURE: see the MAXISCAN 2200

Plug and play replacement for handheld scanners
Simple to install with small footprint
Optimised presentation and pass through scanning
Fast hands free operation maximises productivity
Easily picked up to read heavy, bulky items
Easy to move around the work/counter area,
pick up option for scanning large items.
Free standing design.


Intermec Maxiscan 2200
Depth Of Field Diagram.
Prices and specifications may change without notice. E. &. O. E.