If you didn't enter Craystone's website via the index page. Please click here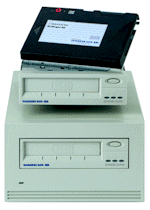 Tandberg Data slr40 Product Information
For professional NT/UNIX workstations and entry level NetWare and NT small business servers, the SLR40 provides an affordable, highly reliable, high performance/ capacity solution providing future scalability and backward compatibility.

Designed for ultimate price/performance and superior reliability the SLR40 offers up to 40GB* storage capacity and up to 21.6GB*/hr transfer rate. Combined with the large 8MB buffer and in-line data compression, the SLR40 offers the best performance in its class. The soft load mechanism prevents unauthorized access and allows integration into the SLR Autoloader with storage capacities up to 320GB.
The standard 5.25-inch half height form factor SLR40 provides easy installation in a half height bay in most PC servers and workstations. The Ultra 2 Wide / LVD/SE SCSI interface allows for installations in both LVD and single operating systems, third part software applications and PC platforms.
The Tandberg SLR40 secures your investment and future capacity and performance needs by offering one of the most scalable tape storage technologies available combined with backward compatibility to previous SLR products.
The Tandberg SLR40 is available as a complete turnkey solution including award winning PC server application software for Windows NT and Novell NetWare or as a drive kit including cable, media, cleaning cartridge and user guide (without software).
Key Facts
Up to 40GB with 21.6GB/hr transfer rate
Integration with the SLR Autoloader & up to 320GB capacity
Avg. file access time <35 sec
Added security with TapeAlert
Media load time <30 sec
Broad platform, operating system and 3rd party tape application support
8MB buffer
3-year warranty
In line data compression
Features advanced encoding technology
Wide Ultra 2 / LVD/SE SCSI interface
SLR40 SPECIFICATIONS
Capacity
Transfer Rate (MB/s)
Typical File
Access Time
Media
Load Time
Media
Compatibility
Native
Compressed*
Native
Compressed*
Write
Read
20GB
40GB
3
6
<35 sec
<30 sec
SLRtape40
SLR40
SLR40/32/24/5
* assumes 2:1 data compression.
SLR40 CONFIGURATIONS
Item
Drive Kit
Complete Solutions
Drive
Internal
External
Internal
External
CD Software Server Suite (instruction manual on CD)
--
--
incl.
incl.
Internal SCSI Wide Cable with termination (removable)
incl.
--
incl.
--
External SCSI Wide Cable
--
incl.
--
incl.
External SCSI terminator (LVD/SE)
--
incl.
--
incl.
Tape Media Cartridge
incl.
incl.
incl.
incl.
Power Cable
--
incl.
--
incl.
Cleaning Cartridge
incl.
incl.
incl.
incl.
SLR40 SOLUTIONS
Item
Drive Kit
Complete Solutions
ARCserveIT Single Server Suite: Win2000, NT and Netware.
--
incl.
SUN Solaris, AIX, SCO-Unix, UnixWare, UNIX, HP-UX, Linux
Supported in Operating System
Macintosh, Windows 98, NT Workstation
Support available through other software
Prices and specifications may change without notice. E.&. O. E.
CRAYSTONE IS A UK BASED SALES COMPANY - Tel: +44 1204 524262 Fax: +44 1204 535995 info@craystone.com